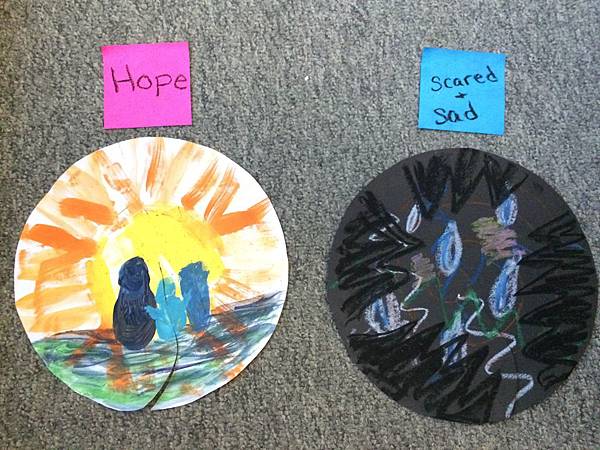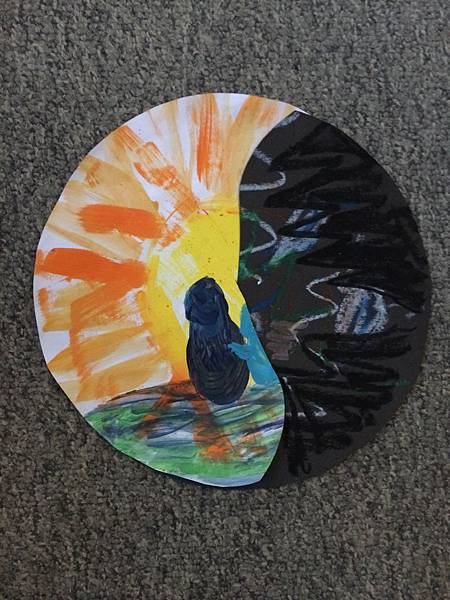 *以上圖片皆為同班同學的創作,已經由他們的同意可以使用*
藝術治療廣泛於應用在創傷症候群
尤其是青少年族群,
藝術治療得以提供創意性的問題解決方案
幫助表達自身負面情緒,反映創傷經驗
得到同儕的回應與支持
與治療師和團體成員建立關係
Art Therapy with Adolescents
• Creativity - Problem solving
• Self-expression – outlet for their emotions, gain fresh viewpoints
• Communicating with metaphor – metaphorical conversation
• Freedom
• The early alliance with the reluctant teenagers
Reference: SeungYeon Lee, (2016) ARTH609-week 2 for BB, PowerPoint slides, ​​​
台灣位於震央帶上,無可避免的自然災害侵襲台灣本島,最近更於2016年二月發生台南大地震,所以我應課程需要,規劃一個session的藝術治療方案,我於長島大學團體治療的課程上擔任團體leader,帶領同學體驗Mock創傷的治療團體,我以中西合璧為精神,以中國的陰陽調和為圭臬,設計出團體治療session。
Since serious earthquake happened in Taiwan in February 5 2016, I engaged in searching the news and giving care to the residents who suffered from this big tragedy. I want to apply art therapy with clinical group techniques to creative a therapeutic group therapy.
Participation
Adolescents experience the variety of emotion after traumatic event, such as aggressive, depressive, feelings of loneliness and feeling of loss, especially those who lose their loved one. They may have some symptoms associated with the traumatic, following by recurrent, intrusive distressing memories of traumatic events, dissociative reactions in which the individual feels as if the traumatic event were recurring, or intense psychological distress.
The young adolescents are at the stage of great conflict, and they are susceptible so that they are seeking role model who they can imitate their behaviors. Although these young people are growing in to mature, they remain in a state of dependency. As a result, it is important to give them support. Nevertheless, this is the stage they face vast assortment of challenges and struggle which they need to find a way to express and deal with.
Goal
Help adolescent to express their fear, sense of insecurity, and feeling of loss from tragedy
Enhance the adolescents' capacity to monitor and regular feeling of safety and danger.
Support members to seeking accompany, and alliance to move on from this tragedy.
Help adolescents understand that what has happened is "not their fault," and assist them in learning methods to regulate and moderate arousal.
Provide a good sharing atmosphere, and increase socialization skills.
The material of the group
Crayons, acrylic, plates, toothbrushes, black papers, and white papers.
The process of the group
process

instruction

time

Everyone introduces their name.

Welcome to the group today. We all know that why we are here because of a tragic earthquake happened last week. At the beginning of the group. I would like you to introduce your name to everyone.

3min

Black hole drawing

Today, I want to know your emotion. You can use this black paper to express your feelings, such as angry, sad, and fear.

After the earthquake, what do I feel……?

8min

Toothbrush introduces

I will present how to use toothbrushes to paint the white paper

1min

Sun painting

Next step we are going to use the white paper.

Can you think about one thing that makes you feel safe or comfortable?

Can you think of one thing that you feel helpful to get now? (Ex: someone cares for you, a big smile, or something you feel happy with….)

8min

Group sharing

Everybody sit in their seat to demonstrate their art works, and sharing what they created.

7min

Conclusion

Simply introduce Yin Yang

If you can change the shape of your black color paper or white color paper, what shape they would be? You can cut it now. But we will share it next session. Thank you everyone's sharing today, and we will save our words in this room today.

3min
References
James N. Butcher, Jill M.Hooley, Susan Mineka, (2013). Abnormal paychology sixteenth edition
Lyshak-Stelzer, F., Singer, P., St. John, P., & Chemtob, C. M. (2007). Art Therapy for
Adolescents with Posttraumatic Stress Disorder Symptoms: A Pilot Study. Art Therapy: Journal of The American Art Therapy Association, 24(4), 163-169.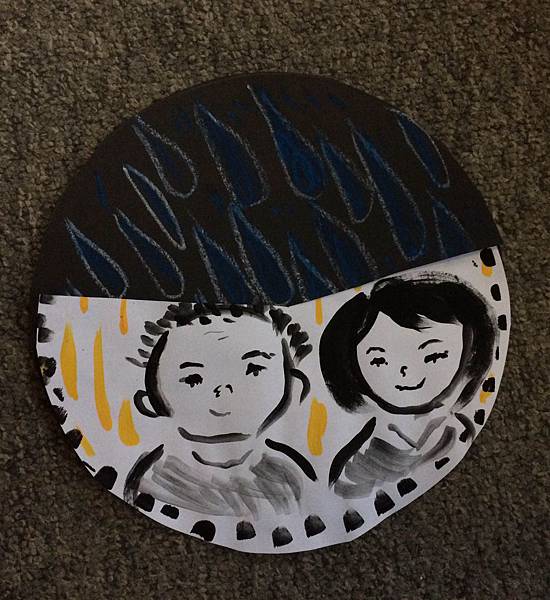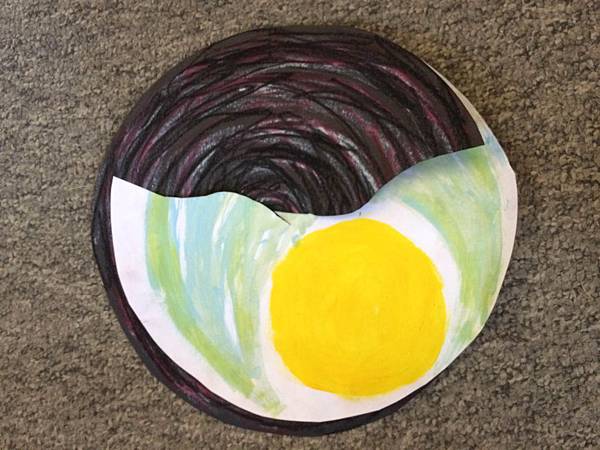 *以上圖片皆為同班同學的創作,已經由他們的同意可以使用*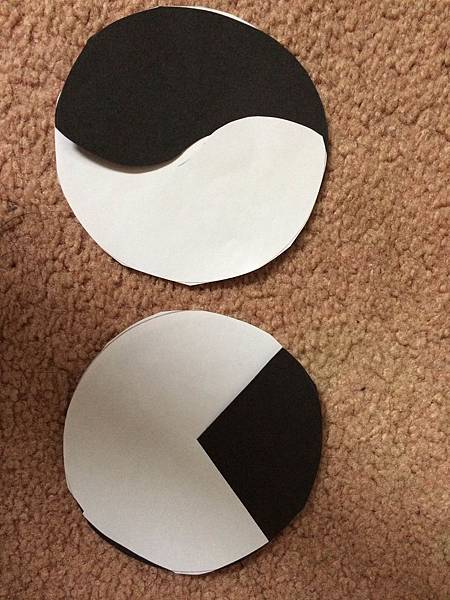 陰陽合體samples